Having butchered our first steer a week ago, we needed a grinder to grind the "leftover" meat and fat to make ground beef. Knowing that we intended to continue raising our own cattle, we wanted a grinder that would be able to perform for the long term.
We were in the Austin area for a Texas Wine and Grape Growers conference and had the opportunity to stop by the Cabela's store in Buda, Texas. Knowing that butchering was in the plans, we looked at the grinders. We were impressed with the quality of the commercial grinders they offered. So, last week I called and ordered the commercial grade 1 horse power grinder. Including shipping, the grinder and attachments cost about $600. This may seem to be a lot for a little used "kitchen appliance" but it is actually less than the fees Lubbock area butchers charges for processing a single cow.
It was in our kitchen in 3 days and boy is it heavy!
The commercial grade models have stainless steel meat trays, necks, screws, plates and blades. One reason we decided on the 1 HP grinder was because it has a reverse gear. From my reading, this can be important when dealing with large quantities of meat. With the ability to process 10 - 12 pounds of meat per minute, the meat could not be pushed through too fast for the machine. It could process much faster than we could!
We had frozen several bags of meat to be ground, so, we thawed it (ideally the meat should be 32-34F) and got to work. The meat had to be cut into chunks small enough to be pushed through the grinder plate. As you can see in the picture below, Bob was sitting by the feet closest to the action lest a piece of meat fall!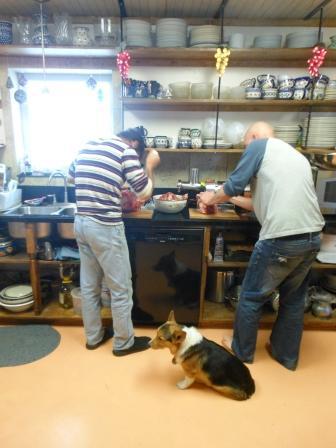 First, the meat was ground through the medium grinding plate (7mm). The meat was definitely ground up but still coarse.
After all the meat was processed through the medium plate, it was mixed together and ground once more through the fine grinding plate (4.5mm) to yield a better fat distribution. Now, it looked like ground beef!
You might think that clean up would be time consuming, but it was actually rather quick. The grinder comes apart very easily and all parts are accessible for cleaning. While some parts are dishwasher safe, we washed it all by hand.
After all was said and ground, we had about 58 lbs of ground beef. Hamburgers were the menu of the evening! I must say, after being on the GAPS diet and now beginning to eat meat after 30 years of being a vegetarian, they were absolutely delicious!
PS. My husband and sons in their spare time are going to try to make a pasta die to fit the grinder. Cabela's customer service did not see a problem with our trying to extrude pasta dough.
I am in no way affiliated with Cabela's nor receive any compensation from them. I merely want to share my personal experience with a quality product.