When we decided on a lifestyle change in 2007 and purchased land here in west Tx for a vineyard, 65 acres of it had been farmed in cotton. This had been done by the common practice of farming in a circle with an irrigation pivot in the center to water the crops. Because the orientation of the cotton rows were the same orientation which would be best for grape vines, we used the center of the circle to begin the vineyard. This orientation allows for the most sun exposure early in the day thus drying the leaves quickly and decreasing the opportunity for disease growth.
This year we planted the remainder of the circle ( about 45 acres) in rye as a cover crop. The purpose of a cover crop is to replenish the soil but also to hold the soil in the blowing wind. Last year, we had wind damage to our young, newly planted vines and did not want this to happen again! With the wet spring, it has done exceptionally well.
Thankfully, the rye was harvested before the rains began. A neighboring farmer has a combine which was used. The harvester is huge as you can see in relation to the man at the side! We took turns riding with the driver in the enclosed cab and were all equally impressed. From the front, you see the header which consists of first the sickle bar which cuts the grain, the reel which knocks it into the auger and finally, the auger which pushes it into the threshing mechanism. After threshing, the grain goes into the cleaning unit and then into the storage bin. Doing all this, no wonder the machine is so big!
The arm that you see out the back is used for unloading the grain once the storage bin of the harvester is full.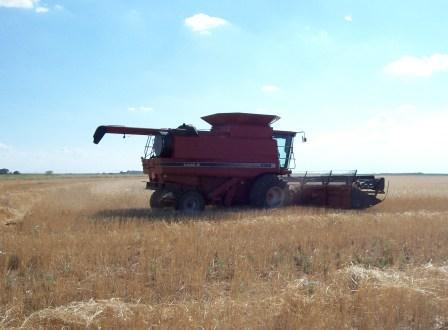 We are saving some for seed to plant in the fall and have tried grinding some in our grain mill. After all, if we can grow our own rye to grind and use, we would not only have more diversity in our diet, but also buy less wheat and therefore save money! We have good success with using the rye flour in baking. It has made great pancakes - both substituting a portion of the wheat flour and using only rye flour. For biscuits the rye worked best when used in conjunction with wheat.
I am not a fan of commercial rye bread, but, to be honest, fresh ground rye flour does not taste like store bought rye bread. It actually gives a slight ginger taste to recipes and remind me of ginger snaps!